I am trying my darndest to get the E.Z. take-off sweater finished for the Ravelympics. I think, I might just make it!
I am officially onto the sleeves, which of course are only 3/4 length. So really it's like 1.5 sleeves worth of knitting. (I feel like that was really terrible grammar, but I don't have the brain to fix it right now. Sorry grammar police!)
You are probably noticing that the waist band isn't finished. That is purposely on hold to see if I have leftover yarn from the sleeves to make knit the band 1.5" long, right now I am running out of yarn for the band and am about .75" into the band. I still have one ball reserved for the sleeves.
I am also feeling a bit overwhelmed that summer is coming to a close very soon. I am heading back to school on September 2nd, and I just don't feel ready. There is so much to get done, and all I feel like doing is procrastinating. I am looking at my schedule, and all of the commitments I have made & starting to freak out just a tad. Work one day a week, 4 lab science classes, volunteering one day a week, teaching a sock knitting class! I really need to get it together, but am finding it hard to get out of the summer groove.
Speaking of summer grooves, check out
Jon & Roy
. They are a local Victoria band that I have recently fallen in love with! (Their music of course, not them personally :-P). The song, Right Groove, has been running through my head at work a lot lately. They are just the perfect West Coast summer sound.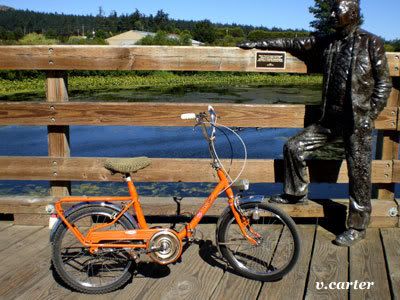 Here's a pic of the bike out on the
Galloping Goose
. I can't believe how much fun riding a bike is!
And speaking of geese...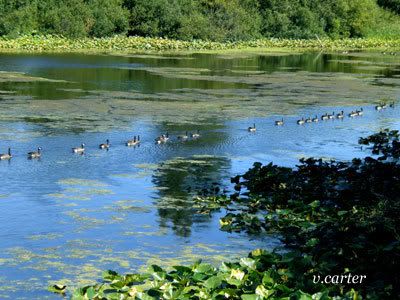 happy summer knitting,
~Nessa