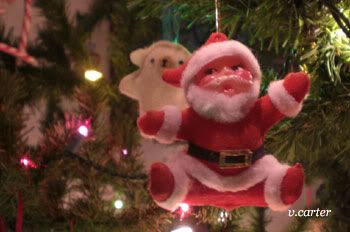 One of the things I love best about Christmas, is the tree. Well, actually the ornaments to be more precise. Over the years I've built up a collection of hand-made ornaments using everything from baked and painted salt clay, to mini knitted garments, and of course there are those few keepsakes that have managed to stick through it all and still adorn the tree year after year. I look forward to seeing them when I bring that big Christmas box up from the basement, like old friends I only see once in a while, they still bring a smile to my face. This little Santa is like that. I am certain that my mom picked him up in a set of ornaments sometime in the early 1980's. I remember playing with all of the characters, Santa, a deer, a mouse, and others. All plastic. All covered in some sort of mysterious fuzz layer. All totally awesome. Santa here is the only fellow who has endured, and is still around to cheer up the tree year after year. Isn't he a fine fellow?
This Christmas decoration is not actually a real decoration, but a tin that used to hold real maple syrup that my hubby brought me back from a business trip to Ottawa. It is kind of like those great cookie tins that have cute little paintings on them, my mom always saved those...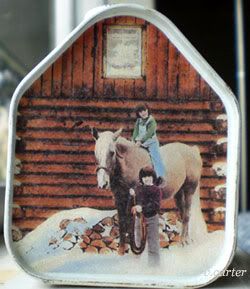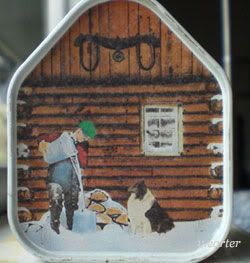 This little tin pretty much epitomizes a Canadian winter in the 1980's. I get all nostalgic looking at it. Although, realistically, those kids would have frostbite in the sub-zero Canadian winter weather! Where are their snowsuits? You know, the ones where you can hardly move your arms, and that take so long to get on that you have to pee by the time you're ready to leave (& will take another 20 minutes to get off again). That, and the milk would be frozen.
(I should point out that this tin does not epitomize a West Coast Canadian winter, if it did, it those kids would need rainsuits)
Speaking of those festive cookie tins...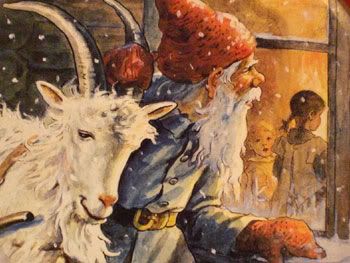 Here is my all time favourite Christmas cookie tin. I admit, I love this tin so much that some years it never makes it back into the Christmas box; it just stays out all year. Don't you just want to let that gnome inside and give him and his goat (angora goat btw) some milk and gingerbread cookies?
This next one is a snippit of a little Christmas scene I set up this year, we have lots of tiny winter themed figurines, and they look so cute on the mantle on a big vase of stuffing snow.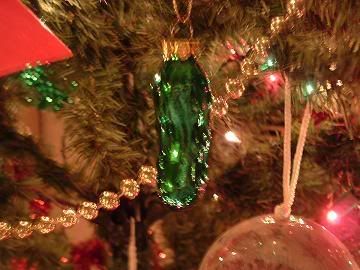 And of course, the
Christmas Pickle
. This is a relatively new ornament, which I recieved just two Christmases ago as a hostess gift when I held my annual Christmas potluck fete. I absolutely love the randomness of a pickle ornament, and I have a feeling this one will be with us for a long time.