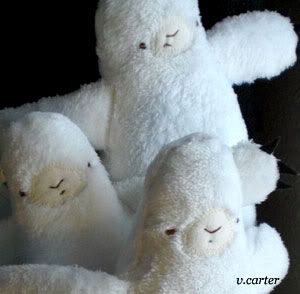 If you live in Victoria BC, these Yetis want YOU to go to the MAGICAL CHRISTMAS CRAFT FAIR this weekend!
Hurry to scoop up these cuties (and other awesome one-of-a-kind COY softies) before they are all gone!!
Just a reminder, in case you forgot... it is running from Friday(tomorrow) to Sunday (check a few posts below for full info)
And for those of you who may be looking for me in the crowd, I won't be there!
I know, "what the heck Nessa? You won't even be at the craft show you've been pushing for the past week or two!!?" I really want to be there, but final exams are next week!!! Sadly, I need to spend my weekend in the books. Though, I might try to sneak down briefly during a study-break to check out the other vendors.
ps. send the A+ vibes my way ;-)