I have liked mermaids ever since I was a little girl. C'mon, what little girl doesn't dream that she is Ariel, at least once in her life...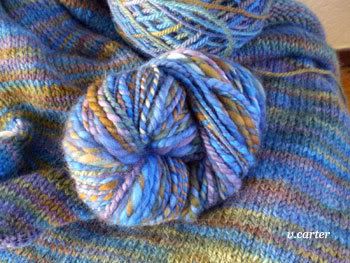 So needless to say I immediately fell in love with
Fleece Artist's
gorgeous colourway called, you guessed it, Mermaid. Actually this was my favourite colourway for a long time, but then I found out the name & if it is possible, I loved it even more.
That pic up there is actually my first plied handspun (from Fleece Artist's merino sliver), snuggling up with my Imogen sweater-kit-in-progress. Am I a tad obsessed with this colour? possibly.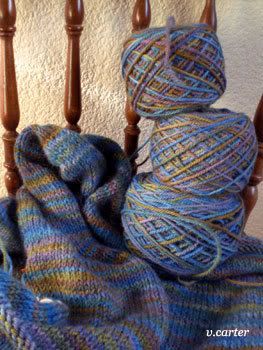 Oddly, I am not usually a "blue" person, but this blue is so rich, and the intermingled shades of green, brown, and purple make this colourway reminiscent of the colours used in some of my favourite Emily Carr paintings of the 1930's, like
this one
or
this one
.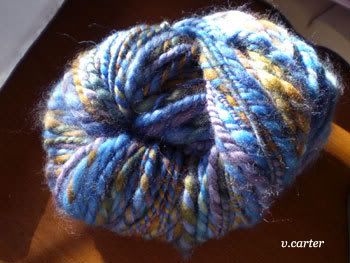 I am ridiculously pleased with myself over this handspun. I used a shoe box, and empty tp rolls to ply this yarn, and it is now my life's goal to procure more of this colourway in the merino sliver... in fact, I would even be delighted to get this colourway in the silk/merino blend sliver... Also, there is some nice Mermaid BFL sock yarn that I am planning to purchase one of these days too...
Is it wrong to have one of every type of knitted item in this colourway?
I won't wear them all out at once, I promise!
~Nessa