The above pic was taken a couple of weeks ago when fall was in full swing. But now it is almost beginning to feel wintery! And by wintery I mean West Coast BC wintery ie.cold, wet, and grey.
So I have been making some cheerful stuffies to chase the winter greys away.
It is impossible to have the blues when you've got a fluffy frosted cupcake with rainbow sprinkles, and a maraschino cherry on top!! It is like happiness incarnate!
These little guys will be for sale at the Perks Arena Christmas craft fair (more details to come closer to the date).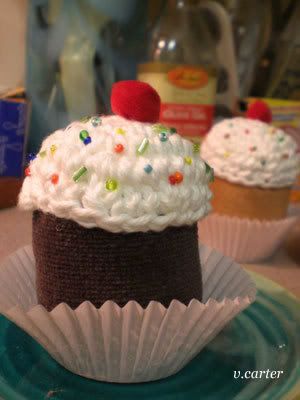 When I showed these to Jeffy, he asked "but can I eat them?"
Sorry Love, they're full of the wrong kind of fiber.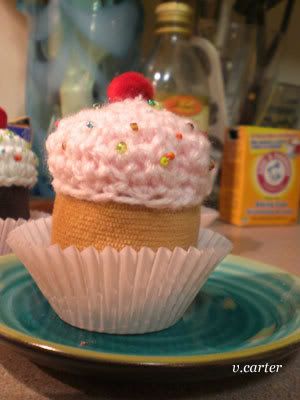 These little fluffies make me hungry for the real thing, which I admit I've been indulging in quite often this season :-) Can you blame me though?
I've also been working on some other more festive stuffies for the Christmas craft fair, but no pics of those yet.
And what is late Fall/ early winter without some hearty warming soup? Here's what we ate for dinner tonight...
Minestrone With A Colombian Twist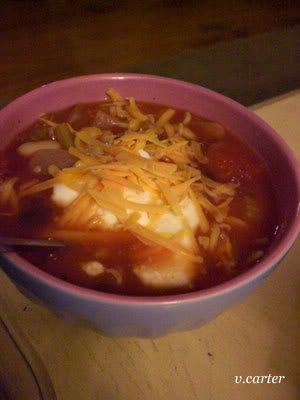 Ingredients:
1 can diced tomatoes (796 mL)
3 stalks of celery chopped
1 handful of cilantro chopped (about 10-12 sprigs)
1 can of beans rinsed, I used white kidney beans (540 mL)
1/2 pkg Mrs.Leepers Corn Rotelli (one pkg is 340g)
2 tsp ground cumin
1/2 cup vegetable juice (like V8)
1/2 tsp cayenne powder
2 tbsp sugar
1/2 medium onion, diced
1 cube boullion (I use veggie boullion)
Shredded cheddar cheese for topping
Sour cream for topping
Mix all ingredients together except for noodles, sour cream, and cheese. Heat in a large pot on medium.
Cook noodles according to pkg directions, set aside.
Once celery is cooked, add the noodles.
Serve with a dollop of sour cream, and a sprinkle of cheese on top. Cheese quesadillas, or corn chips would be a tastey side :-)
Happy November!
~Nessa