The fantastically bright Huzzah For Me Socks are done!
I used one skein of Fleece Artist Merino 2/6 to make them. I think I want to cast on for another pair straight away, since these were so quick and easy to make. A lovely mindless project that I can do when I want a break from my bigger harder projects.
A gratuitous flower shot from a local organic farm's U-PICK garden. This one is of Bergamot.
I also picked up some sour apples, rhubarb, & ginger & made a fantastic apple/rhubarb crisp, but alas, we ate it up so fast there are no photos to share. I will definitely be making more soon, since it is a relatively healthy and oh so delicious dessert! Oh & I have lots more rhubarb left...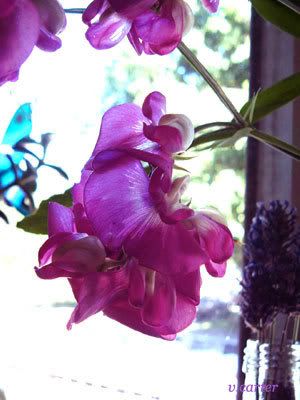 And a bouquet of poor-man's orchids, aka, wild sweet pea blossoms from my garden. So pretty :-)