This past Monday, I got to spend the day on
Saltspring Island
with fellow knitters, Iona, Tiffany, and Iona's all-around-crafter friend Barb. The day could not have been nicer! It was sunny & warm, and felt like real summer weather. This first pic is of Ganges Harbour.
We had a lovely lunch at Barb's parent's place on the top of a mountain (they own the top!). This is their view from the porch!
After lunch we walked to the tippy top of the mountain for amazing views of Saltspring, but of course I forgot my camera. You'll have to trust me when I say it was incredible.


Barb's parent's have an adorable black lab, his name is Cash. Look at him pose ;-)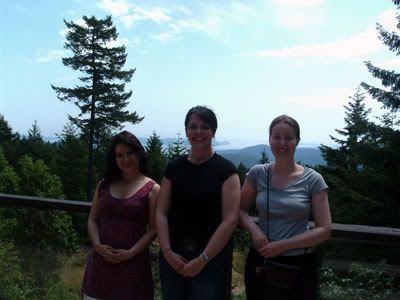 Myself, Tiffany, & Iona on the porch.

Later in the afternoon, we headed out to Ganges to check out the local yarn shop/quilt store, Stitches. It is a lovely shop & I reccommend that you check it out if you're ever on Saltspring. I left the shop unscathed, with no yarn or fabric purchases! It was difficult, let me tell you, but I was saving my money for unique locally produced yarn which they didn't carry.

Next, we hit up The Rainbow Road Trading Co.. This unique little shop is always a must-visit when I'm on the island. When you enter the shop, which is located in a victorian style heritage house, you smell sweet incence and spices. In every nook & cranny of the house you will find a funky assortment of odds and sods, with everything from real Indian garam masala spice, to intricate hand-knitted garments.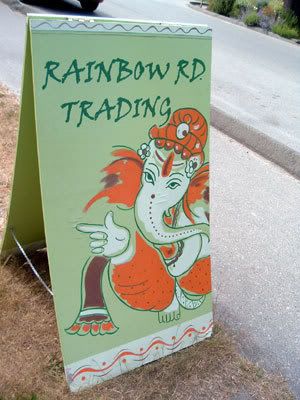 I ended up buying a cute brown strappy camisole (scroll to the bottom of page 1 to see), some gauzy cotton luxa scarves from India (top of page 4), and some cute little carved wooden tea spoons. This eclectic shop is too awesome to leave empty-handed (I don't think I ever have!).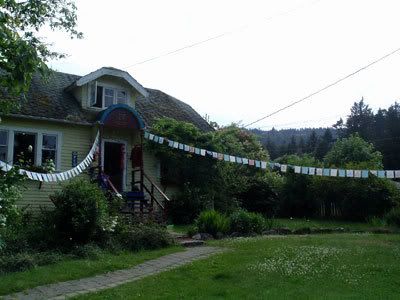 It turned out that Art Craft was on while we were there, so we decided to check it out. While there, I picked up some lovely handmade soap from local soapsmiths Kama Soap. It was lucky Art Craft was on, because I had almost run out of their soap that I bought last year. I love this soap!

More soap was procured from the Saltspring Soapworks, wherin I obtained a little 3 soap sampler. While I love the Kama Soap the best, the Soapworks shop is so cute to visit. They have bubbles blowing from their sign into the street to welcome visitors. Too adorable.

Finally, we went to the chocolate shop for some gelato...




Time ran out to visit any of the farms, so no unique Saltspring yarns were procured. However, in all it was a great little mini-vacation & it was nice to get to know Tiffany & Iona a little better. Thanks Iona!