I finished knitting
these little boots
several months ago, but didn't get around to weaving in the ends and adding the little buttons until a couple nights ago. I made these for a friend's new baby, and they are soon to be shipped out to Spain where he, and his new mum live.
I seriously love this pattern, but I think you already know that, since I've knitted these booties up many times.
The other night, Jeff came home and told me that he had gotten me a
"box of chocolates"
(his words). He handed me a box containing the above. No not the beret-in-progress, the fabulous skinny mac keyboard that I adore! The thing is about 1/4 inch thick, and has all kinds of cool buttons on it, like eject disc, wigets, play, stop, rewind, ffwd, pause, volume up and down, and screen light up and down. I feel like I can type faster with this keyboard (although that is possibly all in my head). This is almost as romantic as when he gave me my
mac mini
for my birthday a couple of years ago. Folks, when you're married to a tekie this is as romantic as it gets. <3 <3 <3
EDIT: I've been surfing UTUBE & ran across some pretty rad music I thought you might like to check out...
Death Cab For Cutie ~ Lightness
This is one of my favourite bands, but for some reason I have never heard this song until tonight. I don't think it's new.
Metric ~ Between the Bars
This is an acoustic cover of one of
Elliot Smith's
best songs.
Headlights ~ Cherry Tulips
This is a band I've just discovered. I think this song reminds me of listening to oldies on the radio. Plus, they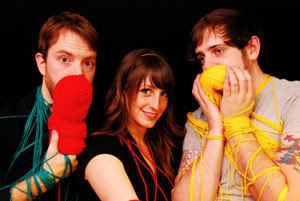 (pic yoinked from their site)