This weekend was the Victoria Fibre Festival! Aka, the stash got enriched!
First, a list:
1. The new banner & icon come from
, aka Sarah McIntyre illustrator extrordinaire! It was her end of the deal for our art swap, which was blogged about in
this post
. Words cannot express how much I love this piece of artwork! The full pic is an original painting in watercolours and pen and ink, 8 1/2 X 11 inches approx. It is called
The Yarn Tree
, and yes that is me knitting with some sheep. My cat, Roo (seen in the icon), is knitting in the tree above.
2. Fleece Artist Merino 2/6, Seconds? Yes please!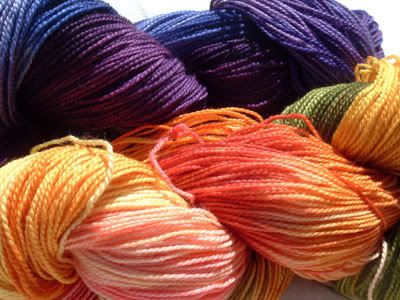 3. Alpaca/Tussa (wild silk) roving.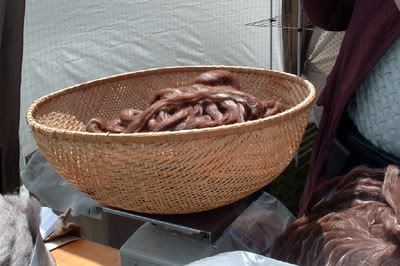 Can you say yum? The soft soft alpaca is enhanced by the shimmery gold sparkle of the wild Tussa Silk!
4. I'm calling this one Spun Gold.
Gorgeous, silky smooth 100% rayon. This looks like it is spun from gold, and feels like silk!
What a lovely day! The sun was out and shining for a glorious spring day, the wind was a bit chilly but all in all it was nice weather for a fiber festival! Still glowing from my yarn purchases!
Happy yarn revelry (no not
ravelry
),
~Nessa