I guess it was a busy week, since I realize that I haven't updated the blog since last Monday!
I forgot tell you all, but recently my mom has started knitting!!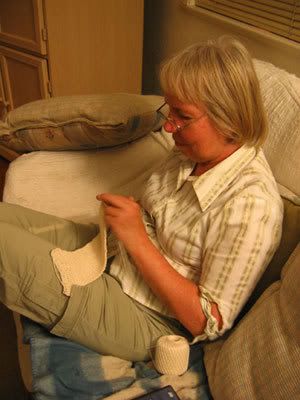 She is knitting on dk weight cotton, and 2.25 mm needles making bandages for the Leprosy Mission. It is her first knitting project! I am so proud of her :-) Her tension is so good. & she is also knitting mostly with one hand, because she had a stroke when I was a girl & she has partial paralysis down her right side. So she is knitting on tiny needles, and tiny yarn, and with one hand mostly, oh & she is doing it for charity. Mom, you're awesome!
And the drops Jacket photos are still coming, I just haven't been at home during the day with Jeff so he could take my pic!
~Nessa